We pwn the San Siro! totally took AC Milan apart in the first half and should have had a goal (or 4). Stunning run and pass to Crouch who had the simplest of tap ins to score…:) 0-1 Spurs
Milan's players were a disgrace – Flamini should have had a straight red for his 2 footed challenge on Corluka (on crutches but came back pitchside to see his mates win), Gattuso…where to start? he started on Joe Jordan, then had a go at Crouch, then seemed to lose it at the final whistle…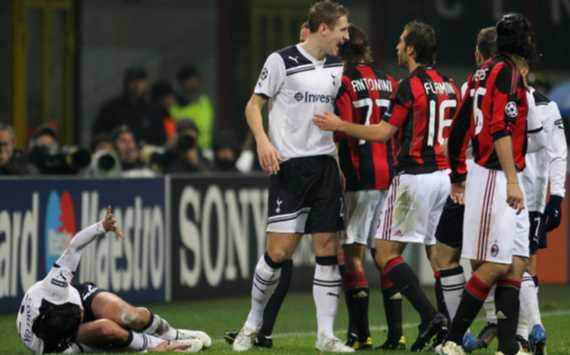 They were scared shitless of the thought of Bale, but Bale stayed home – Lennon showed his class tonight 🙂 Crouch played his socks off – he must be dying on his feet right now. Van der Vaart could clearly be seen saying "Sorry boss, thought that one was in" when he came off – fuck, the whole team played so, so well – Assou-Ekotto was just awesome, Palacios and Sandro in midfield – lovely 🙂 'Arry got it right all across the board.
GET IN!
COYS!
Bring 'em back to the lane with 32,000 rather than just 4,000 supporters…
AC Milan – pwned
Tottenham enjoyed another memorable European night with a famous victory over AC Milan in the first leg of their Champions League last-16 clash.

After bossing the first half at the San Siro, Spurs needed two excellent saves from Heurelho Gomes and some resolute defending in a second 45 minutes which was dominated by the Italian hosts. It was a spiteful second half, too, with Vedran Corluka carried off with a nasty-looking injury following Mathieu Flamini's two-footed challenge while Gennaro Gattuso was involved in a running battle with Peter Crouch and Spurs coach Joe Jordan.

However, it was Harry Redknapp's side who had the last word when Aaron Lennon led a lightning-fast break before feeding Crouch to sweep home in the 80th minute. Zlatan Ibrahimovic thought he had equalised in added time only to have his goal disallowed for a shove on Michael Dawson.
EDIT: I streamed the game and during the second half kept losing the stream (damned copyright!), managed to get the final moments but missed Gattuso's headbutt on Joe Jordan (this was after he'd shoved him and Crouch earlier in the game – he deserves to miss the next leg).
All in all, AC Milan showed their petulance, they assumed a Spurs without Bale would simply crumble – we showed them that 'Audere est Facere' (To Dare is to Do) isn't just a throwaway motto for a club – it's a mantra for the rapidly rising stars of N17…NOW, the big guns of Europe will sit up and take notice.
"We pressed them, we closed them, we didn't give them the chance to play," – Harry Redknapp